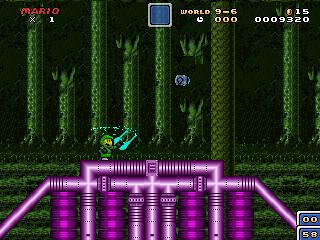 The Sci-Fi Suit is a second-tier powerup that was originally based upon the Spartan Suits from the Halo series of games, but was later expanded to include a wider variety of sci-fi outfits. Each character who gets a Sci-Fi Suit will have a different variant on it.
The Sci-Fi Suit and its variants share one common effect: the ability of regeneration. If the player is hit, they do not lose the suit immediately. Instead, the suit flashes and begins to regenerate. It takes seven seconds for the suit to fully regenerate. If a character is hit while the regeneration process is in progress, then the character will lose their variant of the Sci-Fi Suit.
Powerups in Mushroom Kingdom Fusion
Ad blocker interference detected!
Wikia is a free-to-use site that makes money from advertising. We have a modified experience for viewers using ad blockers

Wikia is not accessible if you've made further modifications. Remove the custom ad blocker rule(s) and the page will load as expected.